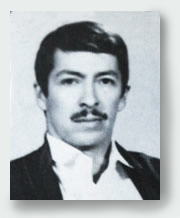 He is a Colombian peasant who was taken in an alien spacecraft. Luis Roberto is a humble person, who with metaphors and good sense of humor, speaks about profound and transcendental topics. His life changed completely after his experience, which was highly publicized in Colombia in the 90s. The ETs gave him two messages that he had to deliver 6 months after being invited to their ship and they can be found on this portal. Although Luis Roberto does not mention where these beings from space come from, I have the feeling that they are related to the Sirius star system.
Luis Roberto was taken on April 2, 1991, in a UFO to outer space, where he met with extraterrestrial beings very similar to humans. He was returned 3 days later in another place in Colombia, about 370 kilometers to the south.
Luis Roberto worked on a farm somewhere between Tabio and Tenjo, not far from Bogotá, the capital city of Colombia. He was in charge of milking his employer's cows. He was married and had two young children. A friend of mine knew him, since he had a farm next to where he lived, and he remembers him as a correct, honest, hard-working and pleasant person.
I met Luis Roberto a couple of months after his adventure with beings from outer space. He was someone simple and humble, who had not finished his elementary school studies, and who in very simple terms spoke of complex subjects and understood natural and physical laws. For example, he said that time is not absolute and varies in different places in space. Luis Roberto was well known in Colombia for some time. His case was studied with great intensity, and with the same intensity was forgotten by almost everyone. His life changed a lot, he could not return to work, and dedicated himself to talk about his adventure without asking for money while traveling through Colombia. One year after the great event of his life, perhaps because he remained in poverty and faced with economic pressures, he dedicated himself to healing sick people and was discovered doing fraud in this activity. Many people who doubted his story, at this time found reasons to ignore everything that had happened to him. However, this case is full of very surprising and intriguing situations.
A few days before being taken into space, being at work near the cows he cared for, he heard a voice in his head that told him to prepare for something very important that was going to happen to him. There was no one near him at the time. Commenting on this to his peasant friends in the region, they suggested that he must flee from that place, as it could be "some demon" or something similar. However, Luis Roberto felt that he should not do it, and although he had some fear, he commented that something within himself invited him to face what was going to happen.
Years ago, when working in another region of the country, Luis Roberto had already observed a UFO in the sky, which looked like a vertical cylinder and that descended to the ground not far from him. Then he had already been in the presence of UFOs before.
The morning he was taken off, very early in the morning, at around 4 am, Luis Roberto went down the mountain, riding his horse, to do the daily milking as the first thing in the morning. As it happened in many previous days, he was worried because he knew that "something important was going to happen". At a bend in the road, in the middle of the darkness (at that time it had not yet dawned), a vertical cylinder appeared, luminous, floating in the air very close to him. His horse got very scared and almost threw him to the ground. At that moment, a green light came out of the flying object that illuminated the face of his horse and it completely calmed down, standing still. Frightened Luis Roberto got off his horse and tried to face that strange object that was approaching. At that moment, like his horse, he was illuminated by a green beam of light, and immediately felt calm and without fear. Luis Roberto remembers that he felt an impulse to walk towards the luminous cylinder that descended to the ground. She entered it, without fear or doubt, the door was closed, and he felt it rising at full speed.
Then remember to wake up in a strange place. He was inside an enclosed space (a ship?), and he was floating vertically in the air, partially resting on the ground. He was afraid, but inside his mind he heard a voice that told him to be calm, that nothing bad was going to happen to him. It was as if they read his thoughts. Something like a rippling clear plastic floated over his left shoulder. There were no people around him, just small cylinders, like robots, moving, radiating light. Luis Roberto explained that this was a cleaning process that they did, since those of us who live on Earth have many viruses and can affect space beings.
A light that ran through his body stopped on his pocket. The voice in his mind asked him to take out what he had in there and throw it on the ground. Luis Roberto took some coins he was carrying from his pocket and threw them down, but before falling to the ground they disintegrated in midair. In his characteristic good humor, Luis Roberto commented that "they billed him for taking this ride." Later, Luis Roberto felt like he really needed to go to the bathroom. The voice in his mind told him he could pee right there. Luis Roberto did it and noticed how his urine disappeared before touching the ground. "They have very modern bathrooms," he told us. He suffered from kidney stones. After this trip he was relieved of this ailment and attributed that the beings in space cured him of his illness.
After this cleaning process, he left this place and then he saw beings very similar to humans, with long hair that fell over their shoulders, light almond-shaped eyes, light skin, and a glow like an aura surrounding their bodies (light violet aura). There were people of all ages, from children to the elderly. He did not see any animals. Luis Roberto said he was at a space base on the Moon. It was a place of great peace, where he felt much reverence. He heard soft music like harps. He said that in the space station he saw a Colombian scientist who introduced himself (he did not want to mention who that scientist was).
He went to a place where they did a more rigorous examination. He told us that in that place there were several screens or monitors where everybody could see everything about him. They could see his whole body, his organs, so his state of health was known. This description of these devices for observing the human body is similar to that mentioned by James Thompson, another contacted person that I have had the opportunity to meet.
Then he was taken to a site, such as a large hall where there were several people. There was a very important meeting there, like it was a trial or a meeting to talk about the situation on Earth. There was someone very special, like their leader, who radiated a lot of love. He heard their voices in his mind. Communication was telepathic at all times. Sometimes he became very uncomfortable, hearing all those voices within himself. At his side was someone who guided him and explained everything that was happening all the time. One of the participants, perhaps the person who was guiding him, approached and gave him two messages that were recorded in his mind, which he could not mention until August 25 of that year, 1991, that is, about 6 months later. He heard this person's voice saying the two messages, one addressed to George Bush (Father), who was President of the United States at that time, and the other addressed to Monsignor Mario Rebollo Bravo, a religious authority in Colombia. He remembered the messages, but could not discuss their content until later.
At the meeting, they seemed concerned about the fate of humanity and how we are mistreating our planet. At the end of the meeting, the person who appeared to be their leader approached him to greet him. He put his hands on him, and at that moment Luis Roberto saw lights and was full of peace, joy and love.
He immediately saw himself on the ground, on the grass, on the Earth and it was at night. They had returned it. In Luis Roberto's mind was the feeling that only a few hours had passed, not more than three. He also thought he was back at the farm where he worked. He did not know that three days had passed, and not a few hours, or that he was 370 kilometers from his home. He was there, motionless, in shock, for a few minutes. A light was projected on the ground showing him the way down, and he dared to move forward following the light. He walked in the dark, descending thought a small path. He came to a house where a woman gave him a piece of bread and water. Luis Roberto felt too hot and thirsty. In Tabio and Tenjo, where he lived and worked, and because it is a place up in the mountains, the average temperature at night is close to 5 degrees Celsius. At Pitalito, where it was left, the temperature could be 28 degrees Celsius. His clothing was thick, with a ruana, for cold climates. He thought he was close to his town, and did not understand why he felt so hot.
Then he walked to the town of Pitalito without knowing where he was. He looked for a police station to ask for help. The police initially took him as someone drugged or drunk, for all the things he said. They jailed him, but then they realized his situation, and that he was the person that was reported missing days ago. At that time other authorities and journalists arrived, and this case was made public.
About him there were many stories that are surprising and strange. He told us that some people were calling him to offer money if he would join a secret organization about UFO investigations. He never accepted the offer. He just traveled through Colombia, talking to the people who invited him. He did not request any monetary compensation for this, but if it was necessary to support him with transportation, food and lodging. He felt that he had been given an important mission that would end when he would read the messages they had given him. We also learned that he was threatened, and on one occasion somebody tried to kill him, but surprisingly and miraculously he survived from multiple shots from a machine gun a couple of meters away.
His whereabouts are currently unknown. His financial situation was very precarious. I witnessed the poverty in which he lived, and although some people supported him for a time, this aid was disappearing. Luis Roberto decided to heal in order to survive, but he was discovered cheating, pretending to have powers that he did not have, and the enthusiasm of many people who supported him went so far. However, he made a great impact on Colombian society, and few people still have memories of this extraordinary story.
On August 25, 1991, almost at the same time that Gorvachov surpassed the coup d'etat by far-right groups, and the Soviet Union peacefully disbanded, Luis Roberto Rodriguez read the messages that were entrusted to him, in a public square from the town of Tabio, near Bogotá. The night before he wrote them on sheets of paper. I was there, I listened to him reading the messages he was asked to give, and I saw the original document, written in his own handwriting, with spelling mistakes, but with surprising key messages coming from someone very humble and with an uneducated origin.
These are the messages delivered by Luis Roberto:
Message addressed to President George Bush.
Why do I think this case is real?
(1) I felt that Luis Roberto was someone who was telling the truth. Watching him on television was not the same as talking to him face to face.
(2) He knew about aspects of theory of relativity and human evolution that someone from his education cannot know. There was a lot of wisdom from him. With simple metaphors he gave very profound teachings.
(3) Although there was no conclusive evidence to confirm this case, his disappearance and return in a very remote place was surprising.
Rafael de J. Henríquez, a Colombian writer, wrote the book "Tiempo Cero", which tells more details about Luis Roberto's experience.