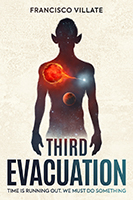 THIRD EVACUATION:
How can Sarom prevent the destruction of his world when no one believes him? As a child, he gains the gift of seeing the future after chancing upon a UFO in the sky, a ship of the ancient star Guardians. As a prophet among his people, he predicts what is to come. But no one takes him seriously. What good is it to be able to see the problems that will happen in future, if no one is willing to take action until it is too late?
The Third Evacuation is a science fiction novel filled with prophecies, fantastic characters, walking plants, giants hiding in nature, interstellar travelers and many more, showing us a parallel to Earth's current situation. Will we be able to avoid our planet's destruction too? Time is running out. We need to do something.
This book is available in all formats in Amazon here: Hardcover, Softcover, Kindle and Audiobook.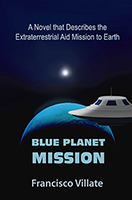 BLUE PLANET MISSION:
Jendua is an extraterrestrial who arrives on Earth in search of a companion, Zendor, who came voluntarily to our planet many centuries ago. Over time and after several lifetimes, Zendor has lost his memory of his stellar origin. Jendua has the remote support of the mission commander and his spirit guide to find and awaken him, but none of them will be able to prevent him from having difficulties in his mission. Jendua, being a space traveler, is greatly impacted by the contrast of Earth with the world he comes from. And he begins to experience a sense of attachment to a beautiful woman he meets, which may lead him to decide to stay in our world, which is primitive for him, and ruin his mission.
Jendua will discover something hidden from his past, and will understand that he somehow unconsciously came to Earth not only to "awaken" Zendor to remember his true identity, but to unearth a hidden memory in his own past.
This science fiction book tells us about the extraterrestrial help on Earth and invites us to think about our personal mission. "This is not a message to convince the skeptical, but a wake-up call for the sleeping." Find it here in Amazon, Softcover, Kindle and Audiobook.
A book review is here.